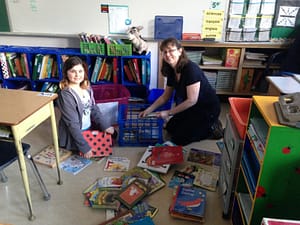 Maya and her mother Kristin have a lot to teach us about sharing the gift of literacy.
When Maya turned five, her mother hosted a 'toonie' party, where each guest brings two toonies; one for a present for the birthday child, and one to be donated to charity. Together they used the money to buy books for Westshore "1000 X 5".
Kristin had first heard about "1000 X 5" when the family moved to the Peninsula.  They were so happy to hear about such an exciting project, eagerly reading the books distributed through the neighborhood Strong Start, as well as making regular trips to the public library.  They were delighted to learn there was another project in place when they moved to Langford.
The Hoffman family has such a love of books, that they decided to challenge themselves even further and read 1000 different titles by the time Maya turned three.  Kirstin recorded every title in Maya's memory box. They still read together every night.
Kirstin believes the 1000 X 5 project is important for all families.  They had donated books before, knowing every book makes a difference, but knew Maya's fifth birthday was special because she could ask others to come together to help. Maya proudly picked out all the books herself.  Maya, her brother Madax and Mom brought the donations to our book sorting room in a classroom donated by Sooke School District. The five year old just couldn't stop smiling, as you can see in the photo!  She talked about her favourite books and authors like an old pro!  Her reason for donating all those books was simple – "So other kids can have books."
Many families are the lucky recipients of the caring of a five year old.